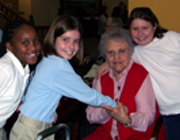 Volunteer ~ Calling All Angels
Do you have a passion for making a difference, perhaps the difference in someone's life? At Bickford, our residents love people like you fluttering around, doing what you do best – whether that's playing your guitar, giving a spinning wheel demonstration or even leading a laughing yoga class. Every unique talent you possess helps us enrich happiness in the lives of those we serve and gives you the opportunity to become a part of something bigger than yourself. You may be a volunteer to the untrained eye, but you're an angel in our residents' eyes when you utilize your uniqueness to transform seemingly ordinary occurrences into transcending moments.

If you're ready to don your wings, we're calling you to be a Bickford Angel! Fill out this Volunteer Application and give it to your local Bickford Branch.