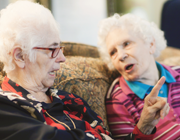 Complaint Instructions
Bickford Senior Living has the highest expectation for integrity and is committed to practicing ethical conduct each and every day. This conduct is based on incorporating our Core Purpose, Foundational Belief, Family Code of Behavior and Philosophy of Care into all of our relationships with Bickford residents and families, Bickford Family Members (employees), the local community and business partners. If at any time you have an issue or concern, including any of the following items, we want to hear from you:
Complaint Hotline
855-254-5010
Resident Care
Abuse / Neglect
Fraud / Theft
Discrimination
Harassment
Employee Relations
Violation of Regulations
Policy Compliance
Business Ethics
We encourage people to attempt to resolve concerns or disagreements with the Branch Director first. If you are not able to work with the Director to resolve your concerns, the next step is to contact the Divisional. You can obtain contact information for the Divisional by calling Branch Support at 913-782-3200. If you have contacted the Director and Divisional and your issue has not been resolved, you may utilize either our dedicated Complaint Hotline or Online Complaint Report. Please note that all reports submitted will remain confidential if requested.
Online Complaint Report